Efter en succé-artad säsong där VALTONEN MOTORSPORT gjort sig ett stort namn världen över, så tog intressanta diskussioner fart mellan TAnu.se och några av dess partners; egentligen redan efter ELMIA 2014.
Tack vare ett starkt samarbete mellan det Svenska Time Attack-mästerskapet TAnu.se och WORLD TIME ATTACK CHALLENGE, så började det plötsligt bli aktuellt att skicka en Skandinavisk deltagare till Australien!
Flera större sponsorer till båda serierna såsom HALTECH ECU m.fl. erbjöd sig bättre förutsättningarna för detta… men idag tackar alltså en av kandidaterna officiellt nej.
Men nytt sikte är redan ställt på 2015 istället!
Vår vision med att knyta till oss det officiella partnerskapet med världens största Time Attack-promotor, har varit att skapa en "väg" för alla i Skandinavien att gå ifall de vill satsa på den absoluta världstoppen av sporten.
Detta innebär att vi hade en realistisk plan för att deltagare i vår serie, och utifrån ska kunna få den hjälp som behövs med logistik etc- för att prova vingarna (om finansiering och sponsor-backning finns).
Med den stora genomslags-kraft VALTONEN MOTORSPORT redan haft, med ett "omöjligt" rekord på Kinnekulle, "King of Mantorp" titeln 2014 samt överlag med en sällsynt kraftfull PR-spridning på allt de gör- så låg vi ett par steg "före" i planen.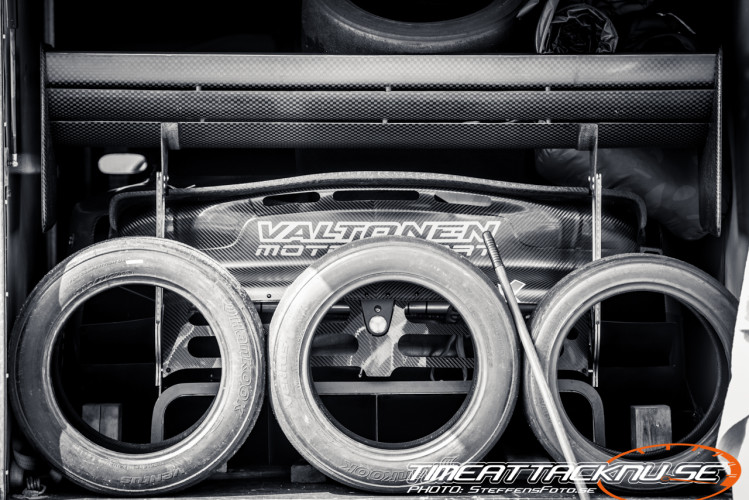 (Packade och klara för WTAC 2015…? Samtliga foton denna Pressrelease av seriefotograf Steffen Nilsen).
– – –
HELA PRESSRELEASEN FRÅN VALTONEN MOTORSPORT I SIN HELHET:
Valtonen Motorsport would like to adress the countless of fans who have shown enthusiastic support for our team so far, and would hope for our ultimate (unspoken) goal: participation in WTAC 2014.
Despite the best possible support by WTAC and some joint key partners around them and the great media support by Superior Media, we are sorry to announce Team Valtonen Motorsport with its carbon Mazda RX7 are not going there this year.
After a very successful season in the Swedish Time Attack Championship (TAnu.se) and test results participating in several other event so far, very serious discussions were held to send the RX-7 to the worlds premier Time Attack event.
The team was officially invited and offered help for shipping and racing in Australia october 2014. Many partners and followers were keen to see this happen, we are humbly thankful of every offered support and people believing in us! Our dream!
But, as a small team we want to secure the ultimate performance of the car and driver, before we travel to the other side of the globe.
The soon coming shipment deadline would stop the development program, which in its current stage would mean crucial steps to expanding Valtonen Motorsports core business would be compromised.
But like any professionals within Motorsports, we must immediately look forward:
We will now put all our efforts and skills to secure our participation in WTAC 2015 instead. We have a core ready, and now need all outside support possible to make this dream happen: A Valtonen Motorsport in-house built, world class competitive Time Attack Mazda RX-7.
"After over 20 silent years of Motorsports engineering and hard work in Finland, we are slowly seeing the light in the end of the tunnel to establish Valtonen Motorsport as a workshop, developer and race team available on the international market.
Its been a personal dream to compete in WTAC, and we never imagined the opportunity would present itself this year already. We are thankful, and promise to reward each fans faith in us by working very hard to secure a campaign for WTAC 2015.
             – Christian Valtonen, CEO Valtonen Motorsport
– – – – –
We start the WTAC 2015 campaign right now! Opportunity for Partners and possible pro driver seat available, many exciting opportunities for small and big investments in this venture to be announced.
CONTACT INFO:
info@valtonenmotorsport.com
– – – – –
Vi på TAnu.se är otroligt stolta över de framsteg vi gjort på den internationella nivån på bara tre år av existens. Detta trodde vi aldrig i starten 2012!
Nu ser vi fram emot att se ifall Valtonens RX-7 kan ta revansch på SMR-Porschen från Mantorp och vinna titeln i Pro Unlimited Test.