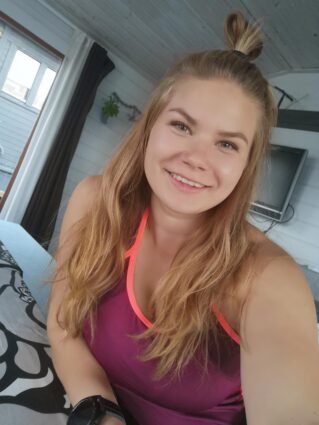 The final rounds of the Swedish Time Attack are rapidly approaching and you can still book a seat at our Test day and compete as a "Wild Card" BY BOOKING HERE (CLICK!).
For this crucial event that will determine the 2019 champions and make history; we are welcoming aboard a experienced and talented addition to our administrational staff: Welcome Hanna Lehtomaa, 23.
Hanna has worked for many years with some of the biggest Motorsport events in Finland and has been a part of the organising team behind Time Attack, Drifting and much more in our neighbouring country.
Despite her young age, she has already gained a wealth of experience to be able to deal with the complicated nature of technical questions, handling all aspects of large events and most importantly interact with drivers who expect the best service as they race their hearts out:
"In Finland I am studying in Team Academy, a line of business studies focused in entrepreneurship and team learning.
Beside my studies I've been organizing drifting and Time Attack competitions in Finland now for 3 years and now I am stepping outside Finland's borders to gain more experience!
My own background with motorsport is couple random snowcross races (and my unbelievable raceable BMW F 650 GS motorbike and -84 Ford Transit). Motorsport combines so many great things and making motorsport is challenging, interesting and (mostly) very rewarding and I am interested in finding the right pieces of making motorsport the best it can be."
– Hanna Lehtomaa.
---
For this years final, the schedule is a three-day event packed with driving and many evenings with quality time to spend with your team, competitors and event staff.
Series Media & PR-manager Mikael Jarosinski has also promised that the championships already high standards have been scrutinised, and expects the final rounds to be a statement of how the Swedish Time Attack championship wants to keep developing for the 2020 season:
"We are happy to add Hanna to our team and hope she will be with us for 2020 as we continue to expand and work diligently on keeping our drivers, followers and partners happy.
The previous rounds on Mantorp Park were possibly one of our best ever with a first time of doing three big events in one weekend and this huge track. It was very taxing for the entire organisation and led to good hindsight for my own limitations during race weekends.
This is why getting Hanna into the mix of our already experienced and dedicated secretariat staff will surely be appreciated by all drivers who will be in full "win or nothing" mode on this final round.
Iam also excited to reveal that after recent negotiations with track owner Richard Göransson, who has done a fantastic job with Gelleråsen Arena as a track in barely one years time… that we will have some nice surprises ready when drivers arrive and several reveals for the future.
---
For daily updates and media FOLLOW OUR FACEBOOK and also INSTAGRAM.
Contact details: media@timeattacknu.se (media & partners), anmalan@timeattacknu.se (drivers).